~~~WELCOME~~~
I am so happy to have you stopped by for the 3rd year of
where bloggers create!
Over 3 years ago my hubby and I turned my 19 year old daughters
nursery bedroom (or spare bedroom) into my Art Studio.
My plan...a soft robins egg or aqua blue for the walls to
backdrop the creamy Accents Heirloom White that I
used on all the painted surfaces that I have in my little studio.
This room is a mere 10.5x11.5. So tiny in nature
but I hope big in storage ideas and lots of room to create!
I have created 3 basic work spaces...
sewing, crafting and painting...
with a middle table workspace.
(which I am still looking for the right table)
Here you will see below, a look at my Painting Table.
I have set it up with my paints and needed items right
at my finger tips. I use a large drafting table
hubby got me many years ago... or before we designed this room.
To disguise its ugly black surface I used a pretty
vintage sheet...love the look.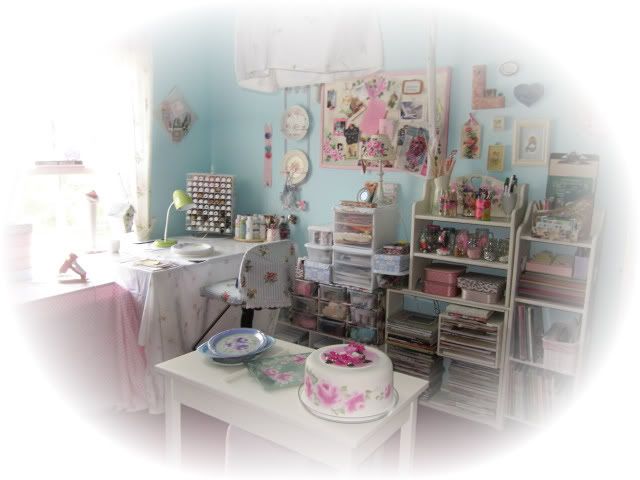 Then we move over to my crafting and sewing area.
Can you tell I am a visual person? I need my *things* out
so I can see them...or its outta sight, outta mind for me!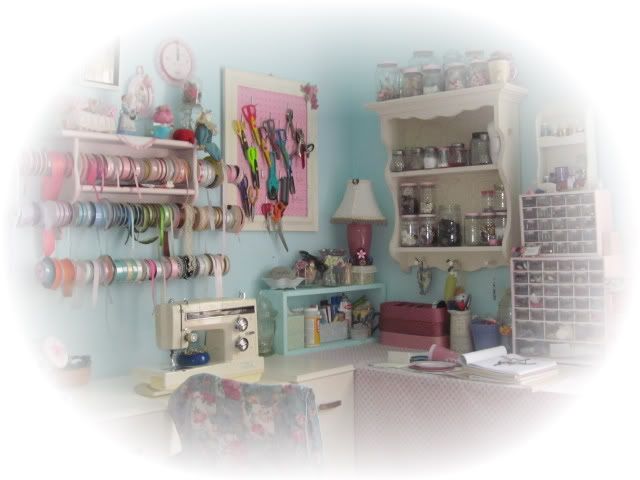 Okay...now I will showcase some of the creative
pretty ways to display the many items I used when I am
crafting, sewing or painting...
as many times I am doing 1, 2 or all 3 of these
at the same time.
I also have collected Vintage Quilted Glove/Hankie Boxes
and those house my clay roses.
Ribbon HOLDER: Convereted Shelf I drilled holes into and
put dowels through...its an ever growing supply of ribbons I seem to have!
SCISSOR Board: Took and Old frame and painted in my color
and then had hubby cut a peg board to size!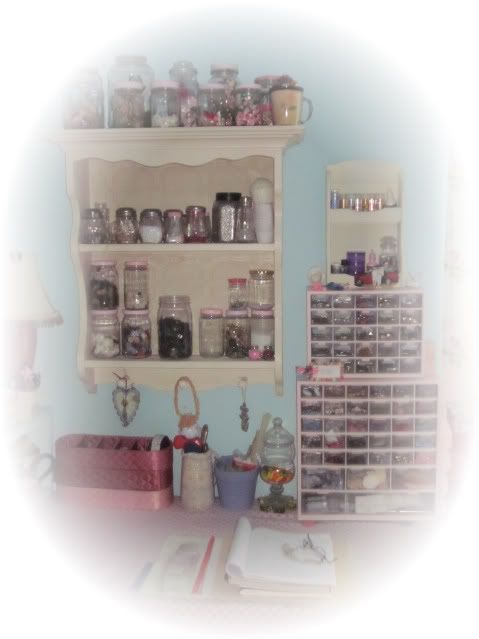 I also used this $3 garage sale shelf for my small ribbon roses,
containers I painted the lid pinks for buttons and glitters.
Then I used KRYLON's Plastic Paint on the two mini-
drawer shelfs that are stuffed with other goodies inside!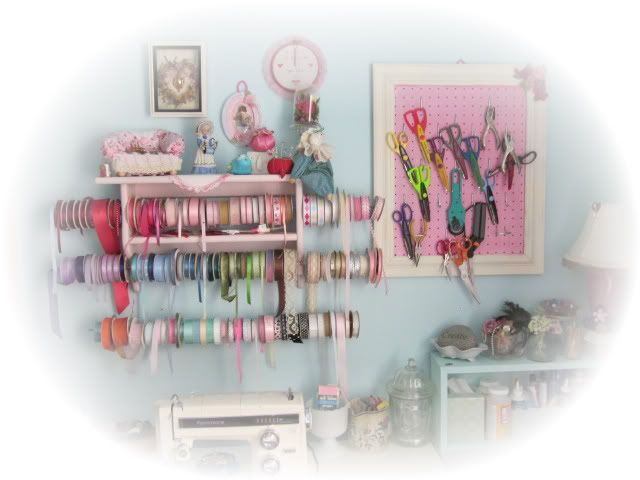 Now on my largest wall I created unique shelving by stacking
a few different things to create ways for me to work.
One of the coolest is a 9 cubby hole cardboard
shoe shelf...I have dollar store plastic shoe containers and they
house most of my laces. And best of all it works
like a dresser with open drawers to see in.
See...you can see what's inside!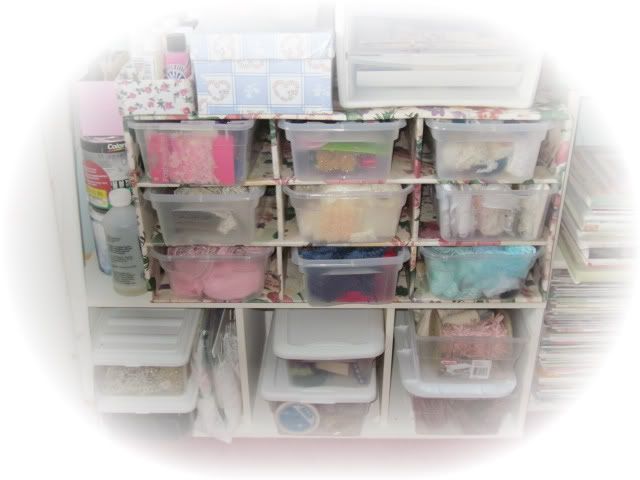 More close up of ways I have stored my supplies.
And...many magazines and books for help and ideas
are housed here as well.
Then on the inside wall I took two cast off pieces,
painted them and stacked the bookcase on top and...
whaaalaaa
More wonderful display and storage.
Then tucked close to my *stuffed* closet
I took a corner shelf and painted it and loaded it up
with supplies!
So there you have a look around to the inside workings
of my humble studio!
Thanks so much for stopping by!
Can't wait to see all the other creative
way's we bloggers CREATE!!!
Also...thanks to Karen for organizing the fun event!
Link is up top LEFT for you to see the other participants.
Be Blessed!
Lorena